Frank Braley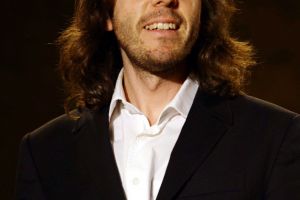 In concert in Salon
There are young pianists who play intelligently, young pianists who play poetically. Both are united in this musician, and that is rare. (Le Monde de la Musique, Paris).
Frank Braley was born in 1968, and began his piano studies at the age of four. Six years later he gave his first concert with the Orchestre Philharmonique de Radio France in Paris, Salle Pleyel. In 1986 he decided to devote himself entirely to music and abandoned his studies in science. He entered the Conservatoire National Supérieur de Musique de Paris and three years later he was awarded unanimously first prizes for piano and chamber music. In 1991, at the age of 22, he took part for the first time in an international competition, the Queen Elizabeth Competition of Belgium and won the First Grand Prize. Public and press unanimously recognise him as a pianist with exceptional musical and poetic qualities.
Since then, Frank Braley has been regularly invited to Japan, Canada, the United States, and all over Europe, to play with such orchestras as the London Philharmonic, Leipzig Gewandhaus, Orchestre de la Suisse-Romande, Orchestra della Swizzera Italiana, Zurich Chamber Orchestra, Philharmonique de Radio France, Orchestre National de France, Orchestre de Paris, Bordeaux, Lille, Montpellier and Toulouse Orchestras, Berlin Radio Orchestra, Orchestre National de Belgique, Liège Orchestra, Orchestre Philharmonique du Luxembourg, Rotterdam Philharmonic, Residentie Den Haag Orchestra, Göteborg Symphony, Copenhagen Royal Orchestra, Tokyo Philharmonic, BBC Wales Orchestra, the Royal Scottish Orchestra, the Berliner Sinfonie-Orchester, the Boston Symphony, the Baltimore Symphony orchestra, the Seattle Symphony Orchestra, Los Angeles Philharmonic Orchestra under Jean-Claude CASADESUS, Stéphane DENEVE, Charles DUTOIT, Hans GRAF, Gunther HERBIG, Christopher HOGWOOD, Eliahu INBAL, Marek JANOWSKI, Armin JORDAN, Sir Neville MARRINER, Kurt MASUR, Sir Yehudi MENUHIN, Antonio PAPPANO, Michel PLASSON, Yutaka SADO, Michael SCHONWANDT, Walter WELLER…
Frank BRALEY toured all over the world: in China with the Orchestre National de France under Charles DUTOIT, Japan and China with the Orchestre du Capitole de Toulouse under Michel PLASSON, with the Orchestre Français des Jeunes under Emmanuel KRIVINE in France and Italy, and again Italy with the Orchestra di Padova e del Veneto. He gave recitals with the violinist Renaud CAPUçON (Amsterdam, Athens, Birmingham, Firenze, Ferrara, New York, Washington, Paris, Vienna). He also participates in special projects, such as Beethoven's Piano Sonatas Cycle (La Roque d'Anthéron, Paris, Bordeaux, Nantes, Grenoble, Rome, Tokyo and Brazil).
He played in recital in Paris, Londres, Amsterdam, Bruxelles, Hanovre, Ferrare, in duo with Renaud CAPUÇON in Amsterdam, Athènes, Birmingham, Bruxelles, Rome, Florence, Trieste, New York, Washington, Paris, Vienne… He use to play music chamber with Renaud and Gautier CAPUÇON, Maria Joao PIRES, Paul MEYER, Gérard CAUSSE, Eric LE SAGE, Emmanuel PAHUD, …
For Harmonia Mundi he has recorded Schubert's Sonata in A Major D. 959 and Klavierstücke D. 946 (for which he received the Diapason d'Or and has been compared to Claudio Arrau, Alfred Brendel, Radu Lupu, Andras Schiff...), Richard Strauss' works for piano solo, and Beethoven's Sonatas Clair de lune op.27 n°2, Appassionata op. 57 and op. 110 (Harmonia Mundi), Gershwin's complete piano music. For Virgin Classics he has recorded Ravel's Chamber music with Renaud and Gautier CAPUçON, Saint Saens' Carnaval des Animaux and Schubert's Trout. BMG : Poulenc's Double Concerto with Eric Le Sage (Diapason d'Or). For Naïve DVD Liszt- Debussy-Gershwin (Choc - Monde de la Musique). For Virgin : Schubert's Trios with Renaud and Gautier Capuçon. Last recording : Hungarian Dances with Nicholas Angelich.
Since January 2014, Frank Braley is the new music director of the Belgian Orchestre Royal de Chambre de Wallonie.