Thibault Cauvin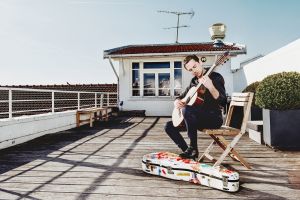 In concert in Salon
Thibault Cauvin is certainly one of the most talented, charismatic and sought-after guitarists at the moment. He started touring more than ten years ago and never stopped since. Cauvin perfomed as a soloist in 120 countries on the most prestigious stages: Carnegie Hall in New York, Shanghai Concert Hall, Tchaikovsky Hall in Moscow, Queen Elizabeth Hall in London, GAM in Santiago de Chile, the Théâtre des Champs Elysées in Paris, Gasteig in Munich, and many others.
Born into a family of musicians, Thibault Cauvin started learning to play guitar at five years old with his father. After brilliant studies at the Bordeaux Conservatory and the National Superior Conservatory of Paris, he began entering international competitions. At age 20, he was and remains the only guitarist in the world to have won 13 international first prizes. This accomplishment at such a young age was the trigger of his « endless tour » which now counts over 1000 concerts. Cauvin's one-of-a-kind career inspires the young generation of French classical guitarists who shines in many competitions around the world making France one of the most respected music school in the world.
Thibault Cauvin was appointed « Ambassador of Bordeaux Métropole » in 2013. He is patron of the « Paris Guitar Foundation » and is a Sony Music artist. The 30 year old musician takes the classical guitar further and further. His inspired, expressive and natural playing brings together people, generations and breaks down boundaries. This popular and eclectic guitar, new into the world of classical music, becomes the queen of the XXIst century.