Quatuor Arod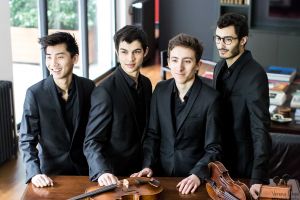 In concert in Salon
Established in 2013, Quatuor Arod won the First Prize of the Carl Nielsen International Chamber music Competition of Copenhaguen in October 2015, as well as the Prize of the best interpretation of Carl Nielsen and the Prize of the best interpretation of a work written specially for the competition. In February 2014, the quartet won the First Prize of the FNAPEC European Contest and the ProQuartet-CEMC Special Prize, where the ensemble is the new quartet in residence.
In 2016, Quatuor Arod will perform among other places in the Palais des Beaux-Arts de Bruxelles, at the inaugural season of the Centre de Musique de Chambre de Paris and will make its debut in Germany (Berlin, Cologne) as well as a tour in Denmark. Quatuor Arod performs in many festivals: Verbier Festival, Septembre Musical de Montreux, Les Vacances de Mr Haydn, Août Musical de Deauville, Quatuor à l'Ouest, Ré Majeure, Quartettissimo in Hungary… They are invited to perform alongside artists such as clarinetists Martin Fröst, Romain Guyot and Michel Lethiec, pianist Claire Desert and cellists Raphaël Pidoux, François Salque and Bruno Philippe.
Quatuor Arod benefits from Jean Sulem's teaching (Quatuor Rosamonde) and is currently in residence at the Queen Elisabeth Music Chapel in Brussels since September 2014 where they entered the class of Quatuor Artemis. They are also working with other ensembles and musicians like Quatuor Debussy, Quatuor Ebène, Talich Quartet, Ferenc Rados, Quatuor Diotima, Gábor Takács as well as the Tokyo Quartet.
Regularly invited in radio programs, Quatuor Arod could be heard on France Musique in Dominique Boutel's programme "La Matinale du Samedi ", Lionel Esparza's "Le Magazine des Festivals ", Vincent Josse and Nicolas Lafitte's "La Matinale Culturelle " and in Laure Mezan's "Journal" on Radio Classique. In 2016, Quatuor Arod will be the guest of Stéphane Goldet in its broadcast "Plaisirs du quatuor".
Quatuor Arod is in residence at the Singer-Polignac Foundation and benefits from grants provided by the Banque Populaire Foundation and the Safran Foundation.
Quatuor Arod's tailor is "Blandin & Delloye - Paris".