Gilbert Audin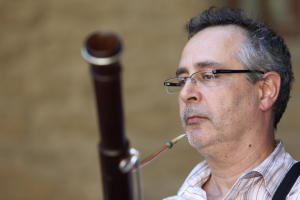 In concert in Salon
Gilbert AUDIN is bassoon soloist at the Orchestre du Théâtre National de l'Opéra de Paris , and teaches in the Conservatoire National Supérieur de Musique de Paris; this ambassador of the French bassoon and of its prestigious school is wanted all over the world for master classes and international academies.
He is also bassoon consultant/tester for Buffet Crampon and is contributing to the development of the instrument.
Gibert AUDIN is a concert performer who is demanded by the greatest artists to play in chamber music and who won main awards and gained grateful from his colleague.
Gilbert Audin made his musical studies in Nîmes, then he studied in the Conservatoire National Supérieur de Musique de Paris in the class of Maurice ALLARD. He won with 19 the international competitions of Geneva and Munich and its consecration was to win unanimously, with 24, the first prize of the international competition of Geneva, and two years later, unanimously, the First Prize of the international competition of Toulon.
He plays all around the world as concert performer soloist, works in various international academies (Nice, Vannes, Séoul...) and is the partner the most demanded by greatest musicians as Jean-Pierre RAMPAL, François-René DUCHABLE, Paul MEYER, Maurice ANDRE, Michel ARRIGNON...
His discs include J. Haydn (London trio with J.P. Rampal), concertos of Jean Françaix and Marcel Landowski (Sony, RCA), Rossini's quartets, concertos and symphonies of W.A. Mozart and all chamber music of Francis Poulenc (RCA Red Seal).