Romain Descharmes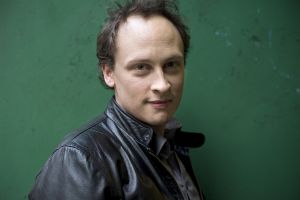 In concert in Salon
Most considered by his fellow musicians, Romain Descharmes is in demand for concerts with orchestra but also for recitals and chamber music.
In 2006, he was awarded First Prize in the Dublin International Piano Competition, leading him to perform recitals on such prestigious stages as Carnegie Hall in New York, Wigmore Hall in London, National Concert Hall in Dublin, Tsuda Hall in Tokyo.
He has also appeared in concerts in the USA, Canada, the UK, Italy, France, Japan, and China, with the Midland Symphony Orchestra, the national Symphony Orchestra or Ireland, the Orchestra of del Lazio and the Shanghai Philharmonic Orchestra.
Since his noteworthy debut with the Orchestre de Paris in May 2012, Romain Descharmes has established himself as one of the main French pianists of his generation.
These last two seasons, he has been the guest of several renowned festivals and orchestras.
To name a few : La Roque d'Anthéron piano festival, Piano aux Jacobins, Colmar, Menton, Sully sur Loire, Chambord, Gand festivals ; he has been performing with orchestras such as the Orchestre de Paris (under I. Metzmacher), Orchestre National de Lyon (L. Slatkin), Orchestre National du Capitole de Toulouse (T. Sokhiev), Orchestre National d'Ile de France (T. Otaka), Orchestre de Bordeaux Aquitaine (F. Gabel), Orchestre Symphonique de Québec (E. Mazzola), Malmö Symfoni (M. Soustrot), ... He has also given recitals in London and Istanbul, at the Théâtre de Cherbourg and in the frame of the season of the Palazetto Bru Zane which he enjoys a lasting collaboration with.
In June 2014 he made his debut at the Berlin Philharmonie performing Ravel's Left hand concerto with the Orchestre Français des Jeunes under Dennis Russell Davies during Young Euro Classic.
During the 2015-2016 season, some of his projects to be noted are a reinvitation to the Orchestre de Paris conducted by Paavo Järvi, concerts to be performed with the Orchestre Symphonique de Mulhouse under Patrick Davin, at the Sceaux, Classique au Vert and Vox Musica festivals, at the Opéra d'Avignon, Théâtre du Châtelet, in Italy (Araba Fenice, Terni), at BEMUS festival in Belgrade, …
He is also a much sought-after chamber musician. He is renowned for his sensitive playing and has a wide repertoire, which ranges from sonatas to larger ensemble pieces, as well as lieder, which he is particularly fond of. He has collaborated with Quatuor Ebène, Quatuor Diotima, Sarah Nemtanu, Henri Demarquette and the Berliner Quintett, to name a few.
Romain Descharmes frequently gives recitals in France in mains festivals such as Piano aux Jacobins, Festival de Radio France et Montpellier, La Roque d'Anthéron, l'Epau, Rencontres Internationales Frédéric Chopin, Serres d'Auteuil, Nancyphonies, Ars Terra, Aix-en-Provence, Saint Jean-de-Luz,… and abroad, including recitals in Leipzig, Arties festival in India and Festival Cervantino in Mexico.
He enjoys a long-term collaboration with Palazetto Bru Zane for which he has recorded Dubois' Sonate and works by Hérold, Marie Jaëll's First Piano concerto with the Orchestre National de Lille conducted by Joseph Swensen (together they "premiered" this forgotten work in Lille in June 2012).
Romain Descharmes recorded Brahms pieces for Claudio Records in London.
His last recording of Ravel works was highly praised by the critics (Classica, Gramophone, International Record Review…).
His last recording released for Artalinna in the Spring 2015 is dedicated to Fauré and Scriabin.
During the Summer 2015 he has recorded all Saint-Saëns piano works with the Malmö Symfoni and Marc Soustrot. Recordings to be released for Naxos.
An eclectic musician, he also plays with the ensemble Quai N°5. They recorded two discs for Decca-Universal and are playing on most prestigious stages in Paris (Bataclan, Cigale, Européen, Café de la Danse).
He studied at the Conservatoire National Supérieur de Musique in Paris, where he won four first prizes (piano, chamber music, piano accompaniment and vocal accompaniment) while studying with Jacques Rouvier, Christian Ivaldi, Jean Koerner and Anne Grappotte. Later, he continued his studies first with Jacques Rouvier and then Bruno Rigutto, during which time he was awarded a scholarship by the Meyer Foundation for cultural and artistic development, and made a recording of works by early twentieth century composers. For this project he received the advice of Pierre Boulez. He has also taken masterclasses with Dimitri Bashkirov, Idil Biret, John O'Conor and Oxana Yablonskaya.
Romain Descharmes is also willing to dedicate part of his time to teaching: he is a professor at the CRR in Paris.