Olivier Thiery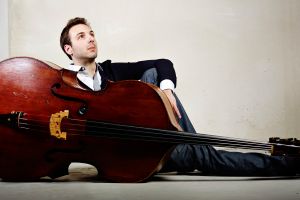 In concert in Salon
The Frenchman Olivier Thiery received is first double bass lessons at the age of fifteen by is own father George Thiery. After Highschool he pursued his musical studies at the Conservatory in Toulon with Jean Pierre Resecco and his father at the Conservatory in Cannes. In 2004 Olivier entered the class of prof. Niek de Groot at the Folkwang Hochschule Essen, Germany.

As an orchestra musician his career began with the Orchestre Français des Jeunes (French national youth orchestra, OFJ) and the Gustav Mahler Jugendorchester (Gustav Mahler youth orchestra, GMJO). Following several substitute assignments in Europe, including the Mahler Chamber Orchestra, he arrived in Amsterdam where he has been playing as a permanent member with the Royal Concertgebouw Orchestra since august 2008.

Studying for his Master's Degree at the Folkwang Hochschule, Olivier had lessons from Double Bass prof. Niek de Groot, cellist Young Chang Cho and pianist Dirk Mommertz. Moreover, he explored the solo and chamber music literature. In 2009 this work enabled him to win a third prize in the 58th international ARD competition in Munich. Olivier performed many times as a soloist with orchestra's like the Bayerischen Rundfunk and the Münchener Kammerorchester and performed in various chamber music concerts, including "Musique à l'Emperi" in Salon de Provence, "Festival c'est pas classique" in Nice, the "2010 Kronberg Festival" and in the Concertgebouw in Amsterdam with partners such as Alexei Ogrintchouk, Gideon Kremer, Emmanuel Pahud, Andras Schiff and many others.

In addition to coaching youth orchestras and giving many master classes in Nice, Athens, Buenos Aires, Sydney and Amsterdam, Olivier has been teaching at the Folkwang Hochschule as assistant of prof. Niek de Groot since September 2013.
In 2014 Olivier has been appointed as main Double Bass teacher at the Amsterdam Conservatory. Starting in September of this year he will be sharing this responsibility with Rick Stotijn.
Olivier Thiery plays instruments made by Joseph Hel and Francesco Gofriller, on loan from the Stichting Donateurs Koninklijk Concertgebouworkest (donors of the Amsterdam royal concertgebouw orchestra foundation). Jochen Schmidt (Dresden) made his bows especially for him.