Seong-Jin Cho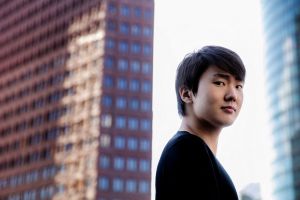 In concert in Salon
Seong-Jin Cho was brought to the world's attention in October 2015 when he won First Prize at the Chopin International Piano Competition in Warsaw. Four years before he had won 3rd Prize at the Tchaikovsky competition, aged only 17. With his overwhelming talent and natural musicality, Seong-Jin Cho is rapidly embarking on a world-class career and is considered one of the most distinctive artists of his generation.
In January 2016, Seong-Jin Cho signed an exclusive contract with Deutsche Grammophon. The first CD of this collaboration will feature Chopin's 1st concerto with the London Symphony Orchestra and Gianandrea Noseda and the four Ballades. It will be released in November 2016.
During the 2016/2017 season, Seong-Jin will play debut recitals at Carnegie Hall's main hall, Amsterdam's Royal Concertgebouw's Master Pianists international series, Chamber Music San Francisco, Munich's Herkulessaal, Lucerne's KKL. He will tour with the Philharmonia Orchestra and Esa-Pekka Salonen in Asia, with the Russian National Symphony Orchestra and Mikhail Pletnev in Europe and play concerts with the Orchestre de Paris at Paris Philharmonie, Santa Cecilia Orchestra with Valery Gergiev, Liverpool Philharmonic Orchestra with Vassili Petrenko, Tokyo Philharmonic Orchestra with Myun-Whun Chung at Suntory Hall.
Born in 1994 in Seoul, Seong-Jin started studying the piano at 6 and gave his first public recital five years later. In September, 2008 at the age of 14, he won the 1st prize at the 6th Moscow International Frederick Chopin Competition. In November, 2009 he won the 1st prize at the 7th Hamamatsu International Piano Competition in Japan (youngest winner in its history),
Seong-Jin has performed with some of the world's major orchestras including the Royal Concertgebouw Orchestra, Mariinsky Orchestra, Munich Philharmonic Orchestra, Berlin Radio Symphony Orchestra, Seoul Philharmonic Orchestra, Czech Philharmonic Orchestra, Budapest Festival Orchestra, Danish National Symphony Orchestra, Russian National Orchestra, Radio France Philharmonic, NHK Symphony Orchestra, under renowned conductors such as Myung-Whun Chung, Lorin Maazel, Marek Janowski, Mikhail Pletnev, Valery Gergiev, and Vladimir Ashkenazy.
Since 2012, Seong-Jin has been living in Paris. After studying with Prof. S.R. Park, S.J. Shin in Seoul, he studied with Michel Béroff at Paris Conservatoire National Supérieur de Musique.
« Cho has an enviable ability to make every note sound distinct and clear, shaping and balancing each phrase perfectly…he superbly demonstrated his understanding of Chopin's stated intent:"calm and melancholy, giving the impression of a thousand happy memories. It's a kind of moonlight reverie on a beautiful spring evening.» Bachtrack, November 2015
« There are already moments in Cho's performances that have a sense of something really special. In this recital, the first of them came at the end of the F minor Fantasy, when the music seemed to be suspended in mid-air on agossamer thread of sound; the Four Mazurkas, Op 33 too seemed to inhabit aworld that Cho had imagined just for them. » The Guardian, March 2016
« Everything is poetic, introspective, graceful » The Financial Times, November 2015