Léa Héninno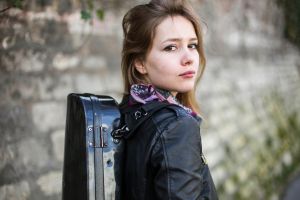 In concert in Salon
Born in 1991, Léa Hennino graduated with Bachelor and Masters degrees in the Conservatoire National Supérieur de Musique de Paris (CNSM) where she studied with Sabine Toutain (principal in Orchestre National de France). Part of an exchange program, she also studied one year with Nobuko Imai in Geneva and regularly participated in master classes with musicians including Tabea Zimmermann, Kim Kashkashian, Atar Arad, Antoine Tamestit, Lawrence Power, Lars Anders Tomter, Thomas riebl, Veronika Hagen, Tatjana Masurenko... And Pamela Frank, Miriam Fried, Ferenc Rados, Gabor Takacs-Nagy, Hatto Beyerle among other for chamber music. Since september 2014 Léa studies in Zurich Hochschule der Kunste with english violist Lawrence Power (soloist diploma).
She was also selected to participate in prestigious academies as Kronberg "Cello Plus" Festival's Masterclass (Germany), Ravinia's Steans Music Institute (USA), Verbier Festival Academy (Switzerland), IMS of Prussia Cove and Open Chamber Music of Prussia Cove (UK), Aurora Chamber Music Festival (Sweden), Encuentro de Santander (Spain), International Institute of Attergau Orchestra (Austria), which gave her opportunities to perform in various formations.
Enriched by these many meetings, Lea became prize winner of the Yamaha Music Foundation of Europe, got a second prize at the National Competition for Young Violists and third prize at the International Competition in Germany Wolfgang Marschner. Her sensitive and original playing also helped her to win the first prize and the SACEM prize at the European Competition for Young Soloists in Luxembourg.
Passionated and invested chamber musician, she participated in the Landauer Meisterkonzerte, Besançon Chamber Music Festival, Groba Festival, Chamber Music Festival of Saint-Paul de Vence, Festival de Pâques d'Aix en Provence, Moments Musicaux de la Baule, Les Nuits du Mont Rome, Festival de Deauville, Cordes sur ciel, EMCY Stars of Tomorow Tour, Fränkische Musiktage Alzenau, les Classiques du Prieuré, Norwegian Youth Chamber Music Festival... She also took part in an European tour of the complete Mozart's string quintets with Renaud Capucon, Clemens Hagen, Alina Ibragimova and Gérard Caussé. She recently shared the stage of renowned musicians such as the Modigliani Quartet, Boris Garlitsky, Nicholas Angelich, Renaud Capuçon, Paul Biss, Lars Anders Tomter, Gerard Caussé, Midori Goto, Torleif Thedéen as well as young soloists like Edgar Moreau, Dami Kim, Valeriy Sokolov, Alina Pogotskina... Lea also performed as a soloist in Les Concerts d'Esther, Grieg in Bergen Festival, Méridienne de Rouen, Jeunes Talents Festival and with the Norwegian Youth Chamber Ensemble.
Next concerts includes among other projects with the Dissonances Ensemble, Festival de St Côme, Maison Natale de Claude Debussy, Festival de Pâques d'Aix en Provence, Amsterdamse Cello Biënnale, Festival Melusicales, Fondation Singer-Polignac, Festival de Pâques et d'août de Deauville, Norwegian Youth Chamber Music Festival .... Léa is also regulary invited to play in the Orchestre National de France.
Lea is now playing a viola by Charles Coquet made for her in May 2014.