Oscar Bohorquez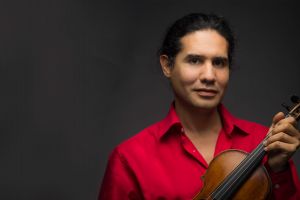 In concert in Salon
Oscar Bohórquez studied at the Curtis Institute of Music in Philadelphia with Professor Aaron Rosand from 1998 to 2002, and at the University of Music in Vienna with Professor Günter Pichler of the Alban Berg Quartett from 2002 to 2008.
Since then concert tours have taken him to major venues throughout Germany such as the Hamburg Laeiszhalle, the Bonn Beethovenhalle, the Frankfurt Alte Oper, the Stuttgart Liederhalle, the Leipzig Gewandhaus , and the Berlin Philharmonie.
In recent years Oscar Bohórquez appeared at the Frankfurt Alte Oper with chief conductor Sebastian Weigle of the Museumsorchester, at the Nuremberg Meistersingerhalle with the Nuremberg symphony under the baton of Alexander Shelley, as well as in numerous latinamerican concert tours of Perú, Chile, Argentina, Mexico and Brazil including Bartok's 2nd violin concerto, the Tchaikovsky, Brahms and Mendelssohn concertos and Sarasate's Carmen Fantasy. In January 2013 Bohórquez appeared with the Orchestra Sinfonica di Roma at the Auditorium Conciliazione in Rome. In January 2014 soloist Oscar Bohórquez toured in China with the Stuttgart Symphony Orchestra including appearances at the Oriental Arts Center/Shanghai, and the Great Hall of the People/Beijing.
Solo and chamber music activities have also taken him throughout Europe, the US, and Latin America including the New York 'Strad for lunch' concert series, the Kronberg Festival in Germany, and the Sociedad Filarmónica of Lima/Peru.
Alongside his brother, the cellist Claudio Bohórquez, Oscar has formed the Bohórquez Duo, who recorded together the 'Seduced' Album including works by Paganini and Piazzolla. Oscar's Solo Album of music by Piazzolla, Hummel, and Ysaye was released at amazon.com. His recent recording of Ginastera's 'Pampeana' is available on the CD "Pampa" by the AlmaViva Ensemble.
Oscar Bohórquez plays the Giovanni Battista Guadagnini 'Grande Dame' violin from 1770, which was previously owned by Günter Pichler of the Alban Berg Quartet. He currently resides between Paris, São Paulo, and Karlsruhe.