William Sabatier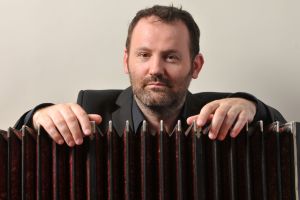 In concert in Salon
William Sabatier is a Bandoneon Player. He fell into the "Tango" music field at an early age and studied it ,on his own ,in all its forms, greatly encouraged by his father.
His encounter with the French Bandoneon player ,Olivier Manoury, led him to a more modern technique.
By the age of 16 , he reviewed the Popular Tango Repertoire and then performed regularly on stage with the Uruguayan Piano player, Angel Fernandez. This amazing experience enabled him to integrate the whole Tango Culture connected with this instrument.

His interest in other musics, such as traditional ones and Jazz, brought him to meet another musician from his own region, the guitar player, Eric Chapelle. Their friendship grew strong and they had a real musical chemistry. This led them to a close collaboration on a project: " the Argentinian Tango comes across improvised musics". And then numerous projects did originate such as "Tango Futur", "Free Tango" and "Paroles de Buenos Aires" .

At the same time, William joined the Cuarteto Tanguardia in 1997. The Quartet was trained by the Bass player , Jean-Marc Fouché. During three years, he worked exclusively on Nuevo tango. ( New tango)
In 1999, William performed in a Maurice Béjart show called "Che Quijote Y Bandoneon" , with one of the most famous South-american actress, Cipe Lincovsky.

Shortly after, Juan Cedron, founder of the famous Cuarteto Cedron, invited him to join his Tango orchestra "La Tipica" as a co-soloist artist. They recorded together very symbolic Tango music pieces and arrangements from the 40's and 50's.

Today, William is specialized in Astor Piazzolla's music. And so numerous Classical Orchestras such as the Regional Orchestra of Auvergne, European Camerata, Philharmonic Orchestra of Nice, Lyrical Orchestra of Avignon, Philharmonic Orchestra of Strasbourg, National Orchestra of Holland... regularly invite him to perform , as a solo artist, the Works for Orchestra of the Argentinian Master.
William also works with amazing solo artists and worldwide famous conductors such as Gordan Nikolic, Laurent Quenelle, Svetlin Roussev (for the Violin), Arie Van Beek, Peter Csaba, François-Xavier Bilger (for the conductors).