Paul Meyer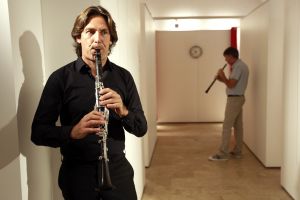 In concert in Salon
Paul Meyer divides his activities between playing, chamber music, conducting and teaching.

His career has taken him to Suntory Hall, Hollywood Bowl, as well as the Concertgebouw, Théâtre des Champs Elysées, the Musikverein, Carnegie Hall, Tchaikovsky Hall, Albert Hall, Berlin Philharmonie.

Paul Meyer has performed with major orchestras, including Orchestre National de France, Orchestre Philharmonique de Radio France, Orchestre de Paris, Koninklijk Concertgebouworkest, BBC Philharmonic Orchestra, Deutsches Symphonie-Orchester Berlin, WDR Rundfunkorchester Köln, Los Angeles Philharmonic, Tonhalle Orchester Zürich, Orchestre de la Suisse Romande, Russian State Symphony Orchestra, NHK Symphony Orchestra.

Paul Meyer is a very active performer of contemporary music and many concertos have been composed for him, including works by Penderecki, Jarrell, Chen, Berio, Escaich and Dusapin, Canat De Chizy. Contemporary repertoire also features regularly in his performances as guest conductor. Peter Eötvös has been commissioned to write a clarinet concerto which will be premiered in 2018 during the 100th anniversary celebrations of the Orchestre de la Suisse Romande.

His most recent recording as a conductor, with the Brussels Philharmonic, features works by John Corigliano and Eliott Carter.

This season, Paul Meyer will conduct the Tonkünstler Niederösterreich, Prague Philharmonic, Shanghai Philharmonic Orchestra, Hyogo Philharmonic Orchestra, Tokyo Metropolitan, Orchestre de Chambre de Lausanne, Orchestre de chambre de Genève, Reutlingen Philharmonie.

In recent seasons, he has conducted among others the Orchestre Philharmonique de Radio France, Orchestre Philharmonique de Strasbourg, Orchestre Philharmonique de Nice, Orchestre de Bordeaux, Orchestre du Capitole de Toulouse, Ensemble Orchestral de Paris, Orchestre National d'Ile de France, Orchestre des Concerts Lamoureux, Symfonieorkest Vlaanderen, Tokyo Philharmonic Orchestra, China Philharmonic Orchestra, Shanghai Philharmonic Orchestra, Taipeh Symphonic Orchestra, Sinfonia Varsovia, Copenhagen Philharmonic Orchestra, Orchestra Giuseppe Verdi di Milano, Russian National Orchestra, Belgrade Philharmonic, Hamburger Sinfoniker, Deutsches Symphonie-Orchester Berlin, Bilbao Orkestra Sinfonikoa, Graz Symphony Orchestra Orchestre, Orchestre National d'Ile de France, Danish Symphony Orchestra, Tonkünstler Niederösterreich, Prague Philharmonic, English Chamber Orchestra, Scottish Chamber Orchestra, Zürcher Kammerorchester, Stuttgart Kammerorchester, Kammerakademie Potsdam, Münchener Kammerorchester, Orchestre de chambre de Genève, Stockholm Chamber Orchestra, Orchestre de Chambre de Lausanne, Stuttgarter Kammerorchester.

Appointed associate conductor of the Seoul Philharmonic Orchestra by Myung Whun Chung himself, from 2006 to 2012, Paul Meyer conducted over thirty symphonic programs and, in collaboration with the Music Director, established an Orchestral Academy designed to prepare young musicians for orchestral discipline. In 2009, Paul Meyer was appointed Principal Conductor of the Kosei Orchestra in Tokyo, with which he explores contemporary repertoire and gives concerts in Tokyo (Tokyo Opera City), as well as touring in Japan and abroad. Paul Meyer's recording activities include more than 40 CDs with major labels such as DGG, Sony, RCA, EMI, Virgin, Alpha and Aeon which have won numerous awards: Fono-Forum, Diapason d'Or, Choc du Monde de la Musique, Gramophon, Grammy Awards. New releases include recording under the Alpha label of Louis Spohr's four clarinet concertos with the Orchestre de Chambre de Lausanne and, under the Ambitus label, Joseph Haydn's horn concertos, with the Stuttgarter Kammerorchester, and chamber music with Les Vents Français (Warner). His future recording plans include a new recording of Weber Clarinet concertos with the Lausanne Chamber Orchestra, and he has just signed a new contract with Sony.

He is also the founder of the ensemble Les Vents Français and co-founder with Eric Le Sage and Emmanuel Pahud of the Festival Musique à l'Empéri.

Paul Meyer was born in Mulhouse in 1965. He made his debut in 1982, at the very young age of 17, as laureate of the prestigious Eurovision Contest and Young Concert Artist in New-York. In 1983, he was appointed principal clarinet with the Orchestre de l'Opéra de Lyon, then with the Ensemble Intercontemporain in 1984 and with the Opéra de Paris in 1985. He soon left these orchestras to begin an international career as soloist. Simultaneously his passion for conducting led him early on to study with Charles Bruck at the Pierre Monteux school in Maine, John Carewe (professor of Sir Simon Rattle and Daniel Harding, among others) with whom he worked as assistant at the Northern Junior Philharmonic, as well as assistant of Marek Janowski at the Philharmonique de Radio France and Emmanuel Krivine.