4. William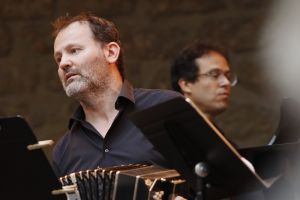 William Sabatier came to SALON in 2018 for the evening An Argentine Utopia with Leonardo García Alarcón.
You applauded him warmly after each of his solos.
In March 2021, William Sabatier, Leonardo García Alarcón and Eric Le Sage met again for a memorable Piazzolla anniversary concert at the Auditorium de Radio France.
William Sabatier has just recorded in May 2021 in Dijon the whole of Piazzolla's bandoneon concertos.
Astor Piazzolla (1921-1992)
Program to be determined  
William Sabatier bandoneon