5. Rhapsody in Blue, Quatuor Ellipsos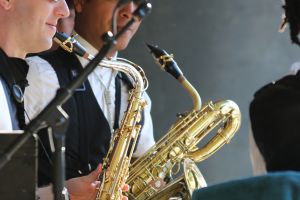 The Ellipsos Quartet visits us regularly in SALON for our greatest pleasure. What a joy to hear the great works so pleasantly adapted for 4 saxophones.
The Ellipsos Quartet and Eric Le Sage perform George Gershwin's Rhapsody in Blue and a work by Fernande Decruck (Read more).
George Gershwin (1898-1937)
Rhapsody in blue
Fernande Decruck (1896-1954)
Pavane...
Paul-Fathi Lacombe soprano sax
Sylvain Jarry tenor sax
Julien Brechet alto sax
Nicolas Herrouët baritone sax
Eric Le Sage piano