6. OUVERTURE QUATRE SAISONS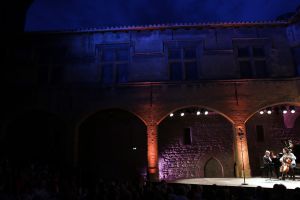 Spring flowers, summer heat, winter wind and even autumn colors... After Vivaldi, Astor Piazzolla, the master of Argentine tango, also did the same with The Four Seasons of Buenos Aires: a beautiful tribute to his predecessor.
In 2021, we celebrate the centenary of Astor Piazzolla's birth! Tonight, jazz and tango will be played by pianist Gustavo Beytelmann, who himself played with the Argentinean composer.
César Franck (1822-1890)
Quintet for piano and strings
Misako Akama violin
Gordan Nikolić violin
Joaquin Riquelme Garcia viola
Céline Flamen cello
Eric Le Sage piano
Astor Piazzolla (1921-1992)
Las Cuatro Estaciones Portenas
Gordan Nikolić violin
Ellipsos Quartet saxophones
Astor Piazzolla (1921-1992)
The Great Tango, for violin and piano
Milonga in D
La Muerte del angel
Gustavo Beytelmann (1945-)
Ofrenda, Tribute to Astor Piazzolla -
Balada, for violin and piano
Tango, for violin and piano
Duke Ellington (1899-1974)
Caravan (arr. by G. Beytelmann)
Patagonia Express Trio
Oscar Bohórquez violin
Claudio Bohórquez cello
Dorian Marcel double bass
Gustavo Beytelmann piano  
& Paul Meyer clarinet