Paul Meyer et Eric Le Sage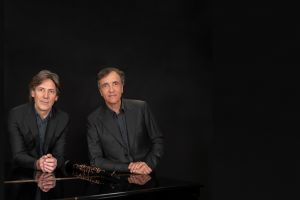 Works by Carl Reinecke & Johannes Brahms

Paul Meyer, clarinet
Éric Le Sage, piano

Salon-de-Provence will go down in music history as the venue for the most beautiful story of friendship between musicians. Paul Meyer and Éric Le Sage have known each other for a long time. They were still almost children when they met during the final of the Eurovision Song Contest (yes, there was a Eurovision Song Contest in classical music).
So it's no coincidence that 30 years ago, together with Emmanuel Pahud, they founded one of the world's finest chamber music festivals at L'Empéri, inviting their friends to come and enjoy the great repertoire, rarities and new works under the Provence sun. Today Eric Le Sage is pursuing a brilliant career, while Paul Meyer divides his time between his clarinet and conducting. But they still like to get together to help us rediscover a few gems, such as here a sonata by Reinecke.