23. Elodie soulard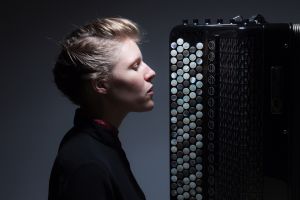 Elodie Soulard, accordéon
Viacheslav Semionov (1946-) : Belolitsa-Kruglolitsa
Franz Schubert (1797-1828) / Franz Liszt (1811-1886): Valse-Caprice n°6, extraite des "Soirées de Vienne"
Félix Ibarrondo (1943-): Arinka
Jean-Sébastien Bach (1685-1750): Suite anglaise n°2 en La mineur
Luciano Berio (1925-2003) : Sequenza XIII
Gabriel Fauré (1845-1924): Pavane op.50
Volodymyr Runchak (1960-) : Portrait de Stravinsky
Born in 1986, Elodie Soulard began studying the accordion at the age of six. She entered Conservatoire National Supérieur de Musique de Paris (Max Bonnay's class) where she obtained her "Premier Prix" with distinction in 2010, then was accepted in post-graduate studies under the direction of famous pianist and conductor Jean-François Heisser.
Eager to continue her solid musical training, she was awarded three "Premier Prix" from the CRR de Paris in music theory, analysis and orchestration (Alain Louvier's classes) and conducting with François-Xavier Roth and Jean-Sébastien Béreau.
She participates regularly in international master-classes, and for two years, worked actively alongside Russian accordionist Yuri Shishkin.
Elodie Soulard is regularly invited as a soloist and performs in all the major concert halls: Amphithéâtre de l'Opéra Bastille, Salle Pleyel, Cité de la Musique, Folle Journée de Nantes and Tokyo, Festival 1001 notes, Festival de l'Empéri, Festival Berlioz, Rostov-on-Don Philarmonic (Russia).
Her repertoire is wide ranging, from transcriptions of works for piano, organ or orchestra (from Bach to Prokofiev) to original works for accordion (Kusyakov, Semionov, Makkonen, Lindberg, Braye-Weppe).
A passionate chamber musician, she has been worked with artists such as Emmanuel Pahud, Jean-Marc Phillips, Jan Orawiec, Laurent Korcia, Eric-Maria Couturier and cellist Raphaël Pidoux, with who she recorded a disc on label Integral in 2009. She also plays with Les Siècles, Orchestre Poitou-Charentes, ensemble 2e2m, Instant Donné, C barré and Compagnie Opéra 3.
Elodie Soulard plays on a russian bayan "Jupiter" (model by Gusiev). (Translation: Nathalie Shaw)