Buffet Crampon présente Laure Thomas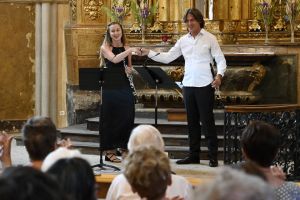 Buffet Crampon presents Laure Thomas
Paul Meyer clarinet
Gilbert Audin bassoon
Laure Thomas bassoon
Laure Thomas is a very young bassoonist who impresses her teachers.
Laure Thomas discovered bassoon in 2010, at the age of 8, after having queued for a long time during the Open Doors of the conservatory. "It was an encounter". A year later, she finished 2nd in a competition in Marseille. She has an impressive track record, winning all the first prizes in the national "Jeunes vents bassons" competition since 2012. Last year, competing in the category with orchestra, the conductor Theodor Guschlbauer was so impressed that he invited her to play a concerto as a soloist in Germany.
During the lockdown she did not leave her instrument alone and even had fun playing the themes of famous games.