2. la bonne chanson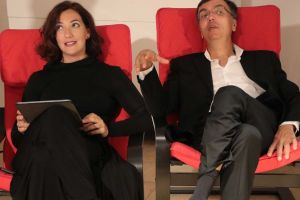 The mezzo-soprano Marina Viotti, lyric artist at the Victoires de la Musique 2023, has been rushing from success to success for several seasons now. She knows SALON well, having been an intern there before, which she is happy to talk about:
During a summer internship at the Salon-de-Provence chamber music festival, she met Émilie Delorme, now director of the Conservatoire national supérieur de musique de Paris. "With her, I realised that the classical world has a lot to offer today's audiences, that we can rethink the way we approach audiences. In Le Figaro in November 2022
She enchanted us in 2021 and couldn't miss the 30th anniversary festival!
Gabriel Fauré (1845-1924)
La bonne chanson opus 61
La bonne chanson est un cycle de neuf mélodies mettant en musique le recueil du même nom de Paul Verlaine.
Marina Viotti soprano
Éric Le Sage piano
Placement numéroté
Tarif unique : 35 €